3/4 to 10 US Ton Capacity
3/4 to 9 Metric Ton Capacity
Dual rated with more choices of capacity
Hook blocks are bolted, allowing easy disassembly for complete hook inspection 
Lightweight and durable all steel construction with powder coated finish and plated external components to resist corrosion
Premium US Made Grade 80 Zinc plated alloy load chain
Self-adjusting double pawl disk type mechanical load brake ensures positive load control
Horseshoe chain guard allows operation in any orientation
Optional Overload Protection is a one directional clutch that will only slip in the lift direction 
Meets: ASME/ANSI B3O.21, OSHA, NASA-STD-8719.9
ATEX rated  II 3 GD c IIB 54º C X for limited use in Hazardous Environments
Long-life fused brake friction disk will not crack, shatter, or absorb moisture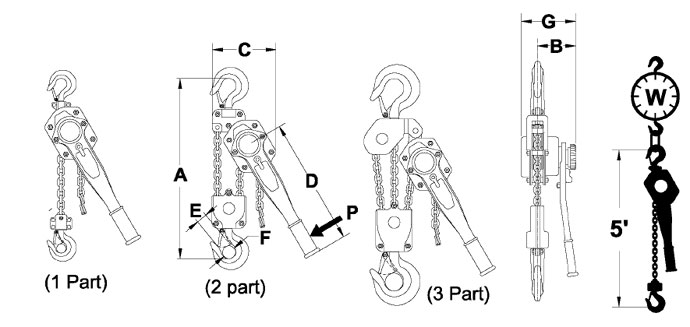 Dual Rated
| US Ton | Metric ton |
| --- | --- |
| 3/4T | 0.8t |
| 1T | 1.0t |
| 1 3/4T | 1.6t |
| 2 1/4T | 2.0t |
| 2 3/4T | 2.5t |
| 3 1/2T | 3.2t |
| 7T | 6.3t |
| 10T | 9.0t |
SPECIFICATIONS AND DIMENSIONS


Model

US
Ton

Metric
Ton

*Min. Load
lbs

*Min. Load
kg


Chain


Parts


A"


B"


C"


D"


E"


F"


G"

P (lbs)
@ WLL

W
lbs/ft. lift

W (lbs)
5ft. lift

LA008

3/4+

0.8

44

20

C6X18Z

1

13.4

3.9

5.2

10.5

1.02

0.98

6.2

47

0.54

14.9

LA010

1+

1.0

44

20

C6X18Z

1

13.4

3.9

5.2

12.1

1.02

0.98

6.2

51

0.54

15.3

LA016

1 3/4

1.6

70

32

C7X21Z

1

15.7

4.4

5.7

14.0

1.14

1.18

7.2

66

0.74

24.1

LA020

2 1/4

2.0

88

40

C8X24Z

1

18.1

4.6

7.6

14.0

1.38

1.30

8.1

66

0.92

36.2

LA025

2 3/4

2.5

110

50

C9X27Z

1

19.1

4.6

7.6

14.0

1.38

1.30

8.1

74

1.25

37.9

LA032

3 1/2

3.2

141

64

C10X28Z

1

20.5

4.8

7.8

16.5

1.46

1.42

8.3

72

1.50

44.8

LA063

7

6.3

278

126

C10X28Z

2

25.2

4.8

9.1

16.5

1.69

1.69

8.3

74

3.00

66.3

LA090

10

9.0

396

180

C10X28Z

3

28.7

4.8

13.3

16.5

1.85

1.73

8.3

76

4.50

110.6
*Minimum Load is the load required to activate the automatic load brake. The brake will stop a load even if the operator leaves the unit in free chain mode or in neutral. This is a similar reaction to a seatbelt.
(1) Shipping weight can be estimated by adding approx. 15% to "W" hanging weight
Standard lift = 5, 10, 15 and 20 ft. Custom lifts are available.
Order by descriptive model number, example: Model LA032-20UV
| | | | |
| --- | --- | --- | --- |
| Model | -Lift | -Drop | Option |
| LA032 | -20U | | S = Shipyard hooks. Available for 1.6 & 3.2t only |
| | | | V = Overload protection, one-way operation that will lower any load |
| | | | L = Self Locking Hook Option (Top & Bottom) |
| | | | |
| | | | |